Beginner Kids Martial Arts Classes Enrolling Now!
Get your child off the couch and onto the mat at TaeCole Tae Kwon Do in Albertson. With our specially designed system offers a unique and individualized curriculum so your child gets the training and attention they need to succeed.

Our experienced instructors are highly-skilled at working with young children to help them build their Leadership skills, confidence, self-control, perseverance and courage. Our classes also provide students with important life skills such as integrity, discipline, respect and self-defense that will help them be successful in life.
Give Your Child A Kick Start With Kids Martial Arts Classes In Albertson!
Little Ninja's (Age 3-4 years)
TaeCole Tae Kwon Do's Little Ninja's classes are taught and supervised by the owners of the school. Your child will learn how to kick, punch, block and fall properly. Your child will improve their balance, agility, coordination and flexibility all while having lots of fun. We also teach our Little Ninja's the safety tips required when dealing with strangers.
We take great pride in our Little Ninja's program and promise to give your child the best!
Juniors (Age 5-8 years) & Super Juniors (Age 9-12 years)
TaeCole Tae Kwon Do's Juniors program gives your child the tools he or she needs to become your partner in dealing with challenging situations. Our dedicated Kids Martial Arts instructors teach respect and self-control along with discipline and team work.
Our Juniors/Super Juniors are taught the mental aspect of the art of Tae Kwon Do as well as the physical ans are taught to be leaders and helpers in and outside of the Do-Chang.
Fill Out The Form On The Side Of This Page to Learn How To Enroll Your Child In Our Kids Martial Arts Program And Prepare For Your Child's Future!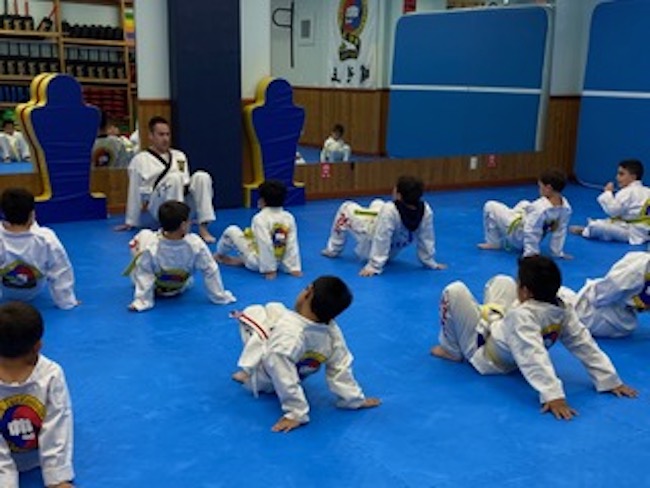 Don't Forget To Check Out Our Photo Album! Click Here!
Proudly Serving The Albertson, Roslyn Heights, And East Hills Area!
Benefits of Kids Martial Arts
Greater Overall Health & Fitness
Learn Effective Bully Prevention & Avoidance
Improved Focus & Discipline
Better Goal Setting Skills
Develop Higher Levels Of Self-Esteem & Self-Control
Increased Focus & Concentration