Summer Camp Enrolling In August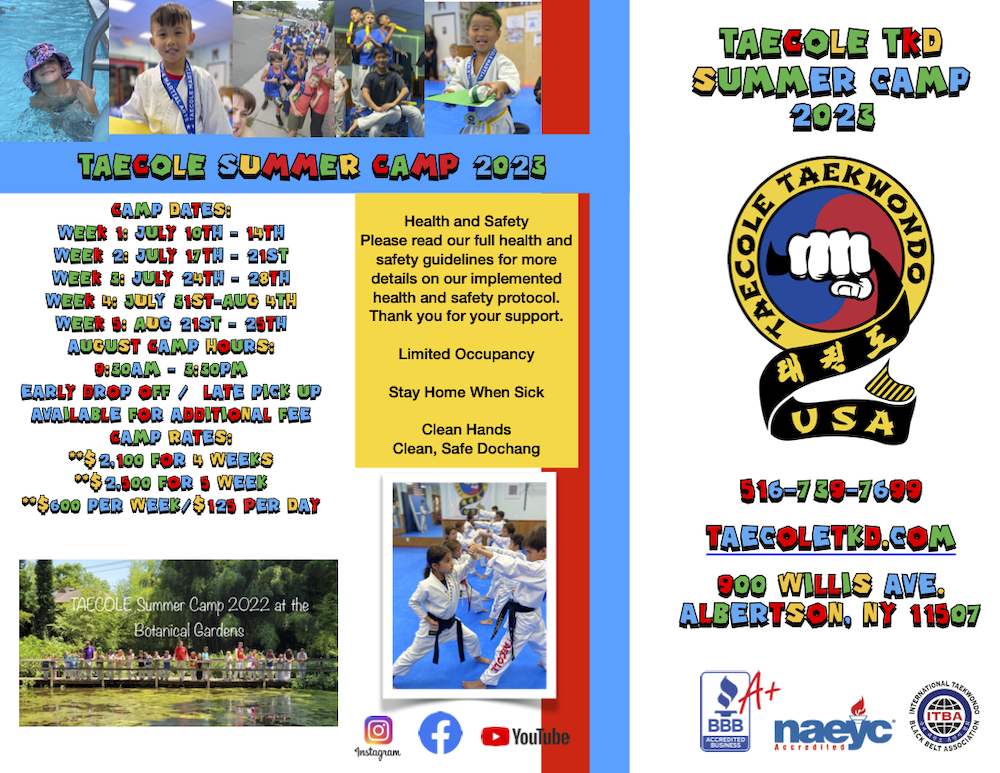 Are you looking for something to keep your child off the couch this Summer? Are you looking for a productive, physical activity for your child that they will enjoy and help them meet new friends?
For this and more join us at TaeCole Tae Kwon Do & Fitness in Albertson. Our summer camp is safe, challenging, affordable, and completely fun-filled.
We have an Early Drop Off Program as well as an After Care Program. Every year our kids have the time of their lives. It is truly the high point of the summer. Not only will they learn effective martial arts, bully prevention and self-defense and improve their physical fitness, but they will be enjoying the activities and games we've designed and meet new friends for life!
Please go and speak to any of our veteran campers and they will tell you all about it!
TaeCole Tae Kwon Do & Fitness Offers Camps and After School Programs At Many Different Locations!
Herricks Community Center Saturday Program
Buckley Day School - Long Island, NY
Jacobson Robin Hood Summer Camp
JCC of East Hills
Center Street After School TKD
TaeCole / JCC Searingtown After School program
Temple Beth Shalom Early Childhood
Camp Kehilla
Temple Sinai of Roslyn Heights, NY
Denton Ave Elementary School
Reserve your spot today in a martial arts summer camp in Albertson that your child will never forget!

Fill out the short form on the side of this page to request more information about our incredible Summer Camp options!